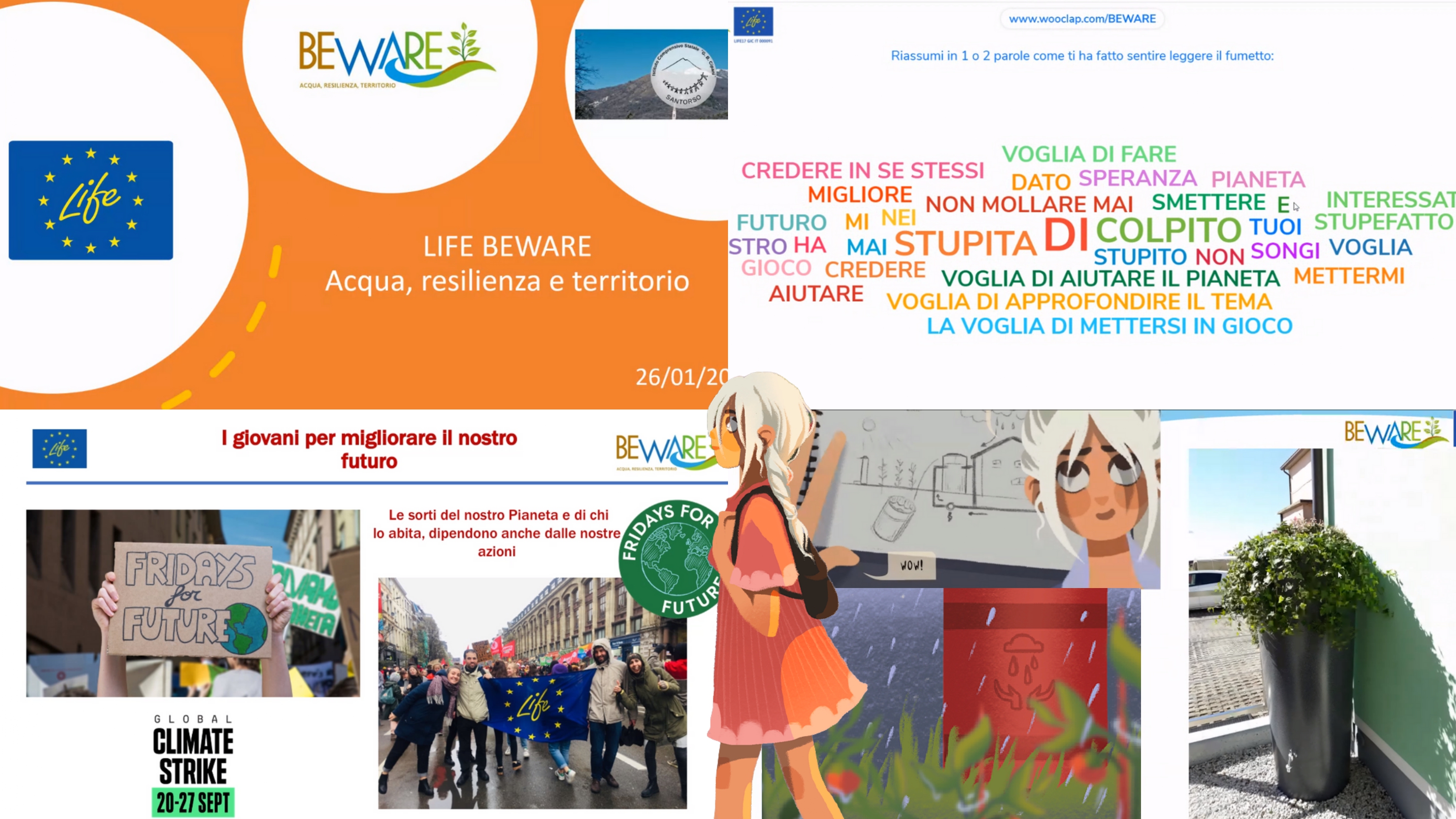 26 Jan 2021

The "Drop by drop" comic book meets the middle school students of Santorso and becomes their story

The Santorso middle school students will contribute to the comic book "Drop by Drop", created by the LIFE BEWARE Project to create awareness on environmental issues and climate change. On Tuesday, January 26th, the young students joined an online meeting promoted to present the comic book "Drop by Drop" and the spirit, objectives and interventions that the BEWARE Project has been carrying out in Santorso and Marano Vicentino municipalities.

The project manager Antonio De Martin, of the Municipality of Santorso, Francesco Bettella, from the Department of Territory and Agro-Forestry Systems – TESAF of the University of Padua and Marta Arosio, project manager of the European Association for Local Democracy ALDA in collaboration with Virginia Marchisotta (ALDA) and Alessia Zanandrea, responsible for the Culture Office of the Municipality of Santorso, shared the idea behind the comic book with the classes. The meetings were held with an interdisciplinary approach to obtain the maximum involvement and enthusiasm of the children who already had the opportunity to know some aspects of the project in previous lessons at school.

In particular, the first part of the conversation focused on climate change, the more and more frequent extreme weather events, but above all, it stimulated a reflection on how each individual citizen can adopt a series of small virtuous actions that, if disseminated, can generate notable benefits for the environment and the entire community. In the second part of the lesson, Professor Francesco Betterla illustrated the completed interventions of the Project and the positive effects that have already been found in terms of increased resilience for the territory.

The young students were finally able to share their impressions and feelings about the comic book. They were given the task of continuing the story of the protagonist, Thea Rossi, only a few years older than their age. They can choose among different proposals: i) Thea Rossi becomes an architect, what will happen in her community? ii) the city of Sanaram has listened to Thea's ideas but the work to be done is still a lot, so it is essential to continue to involve the youngest in the city.

How's Thea going to do it?