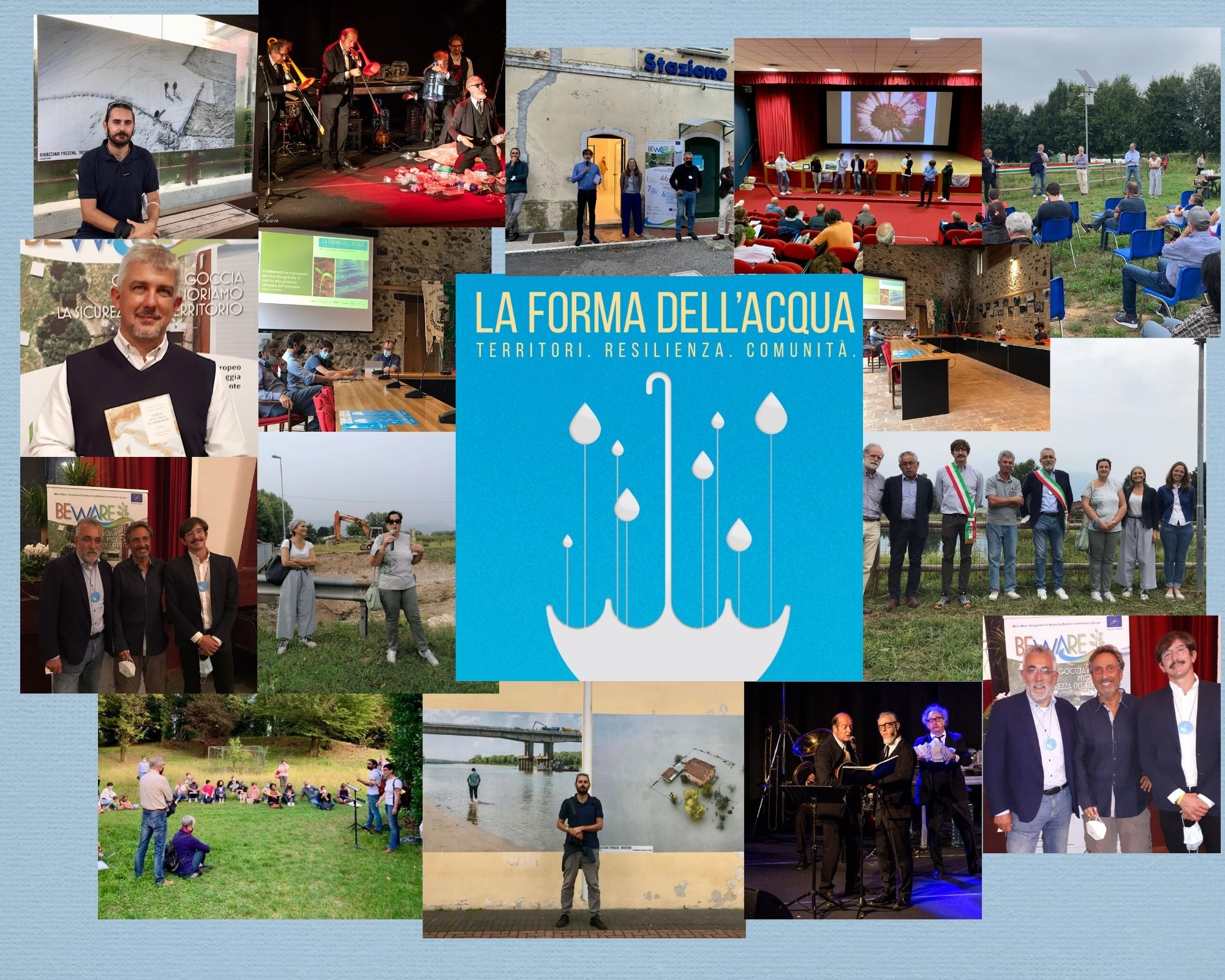 03 Oct 2021

THE FESTIVAL "THE SHAPE OF WATER. TERRITORIES. RESILIENCE. COMMUNITY" WAS A SUCCESS!

The Festival "The Shape of Water. Territories. Resilience. Community", promoted in the context of the LIFE BEWARE Project, took place in the Altovicentino area between Santorso, Marano Vicentino and Giavenale (Schio) from Monday 20th of September until Tuesday 28th of September. About a thousand participants were registered to attend the series of events in the intense programme of conferences, photographic exhibitions, meetings, workshops, shows, projections, giving voice to experts, artists, professionals, with well-known names such as Telmo Pievani, Mauro Varotto, Banda Osiris and Mario Tozzi. The festival focused on the need to collectively develop effective resilience strategies to the increasingly devastating consequences of the epochal climate change that the world is witnessing, with the involvement of local communities, using a variety of methods and forms of expression.

According to the number of registrations, Mario Tozzi's conference "Urban resilience and climate change" attracted the largest audience, on Sunday 26th at the Santorso Theatre. The conference-performance by Telmo Pievani and Banda Osiris "Aquadueo – A very liquid planet" which took place on Friday 24th of September at the municipal auditorium in Marano Vicentino was also well attended. The tour on the 25th of September among the Natural Water Retention Measures of the LIFE Beware Project met with great approval, thanks to the group "Fratellli Dalla Via", the actors Marta and Diego, and the TESAF researcher Francesco Bettella. Another great event was the screening of the documentary "Viaggio nell'Italia dell'Antropocene. The visionary geography of our future" held on Thursday 23rd, again at the Santorso Teatro del centro giovanile, held by Mauro Varotto, on the prediction of the probable effects of rising season Italian coasts, with the presentation of the purchasing group for sustainable urban drainage systems, among the first at national level. Finally, the "Campana" cinema was sold out for the projection of the award-winning Canadian documentary "Anthropocene. The Human Age" on Tuesday 21 and the repeat screening on Tuesday 28, which concluded the festival with another full house.

<<The initiatives we have developed over the last few days in our area – underlines Franco Balzi, mayor of Santorso, lead municipality of the LIFE BEWARE Project – have been a moment of restitution of the great work done so far within Beware, but above all a passage that projects us towards what we will have to develop in the next few years, involving the different stakeholders, starting from the municipalities themselves, which must responsibly act as forerunners>>. <<I am very pleased with our festival," stated the mayor of Marano Vicentino, Marco Guzzonato. "Many people have participated and fully understood the meaning of this initiative, and I'm sure that many of them will find a way to do their part to tackle the hydrogeological risk".