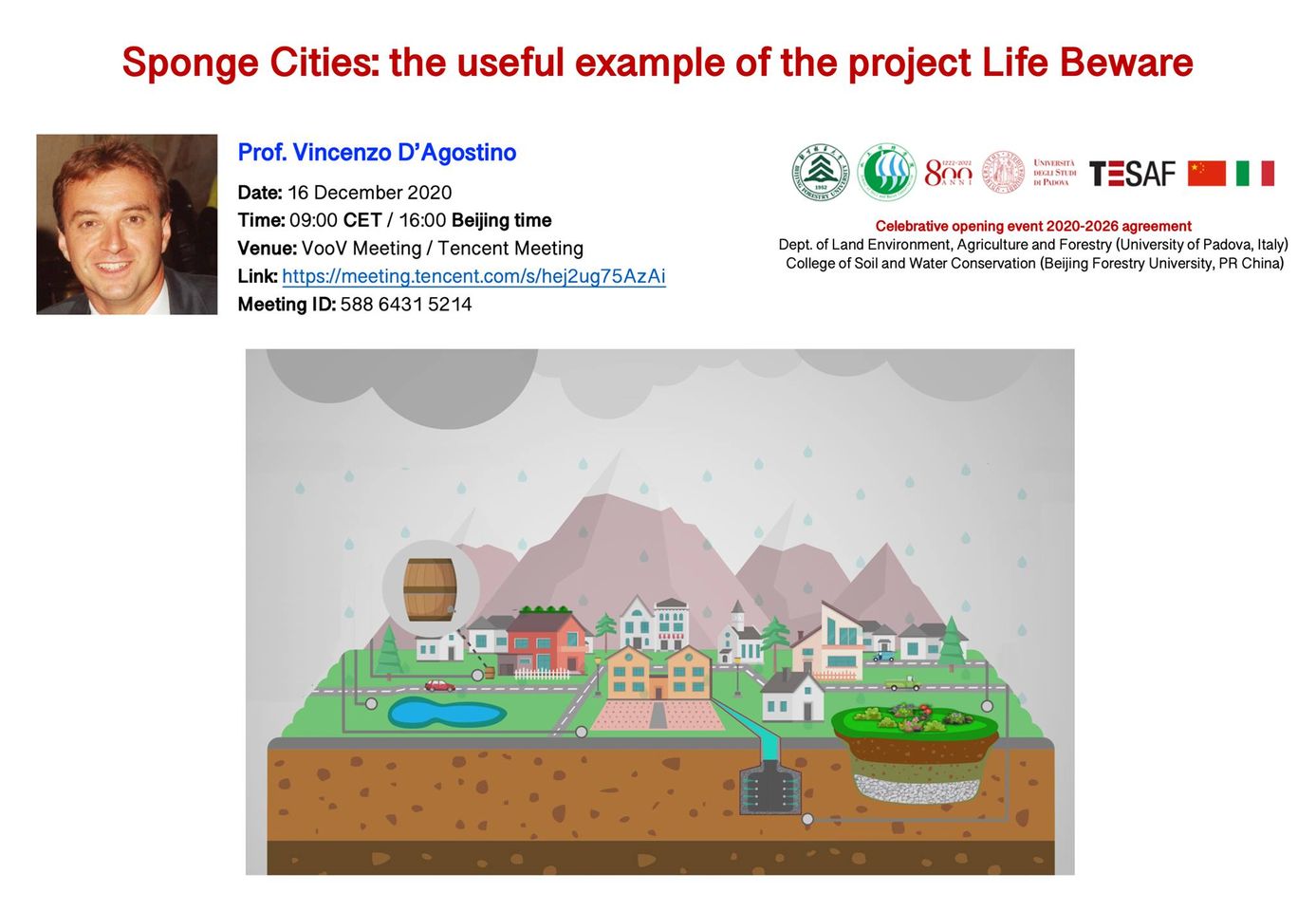 21 Dec 2020

The LIFE BEWARE project arrives in Beijing, as a virtuous example of the Altovicentino

On December 16th 2020, Professor Vincenzo D'Agostino – Director of the Department of Territory and Agro-Forestry Systems (TESAF) of the University of Padua held a lecture addressing the concept of "Sponge Cities" and the virtuous example of the BEWARE project at Beijing Forestry University! The lesson was part of the cycle of seminars "Forest, Climate, Society" for Phd students and master students as an event for the opening of the academic collaboration agreement, lasting five years (2020-2026), between the department Territory and Agro-Forestry Systems of the University of Padua and the Beijing Forestry College of Soil and Water Conservation of the Beijing Forestry University.

Sponge cities, born in China, are urban ecosystems designed to exploit floods and capable of absorbing and reusing up to 70% of rainwater through a series of design devices to be used on an urban scale. Used together, these devices allow you to cope with exceptional catastrophic events, such as floods, as well as more everyday problems, such as the lack of water due to its excessive consumption. Within this model of replicability, the example of LIFE BEWARE fits in with its main objective: to implement a strategy for adaptation to climate change and the risk of floods in urban and rural areas, through the active involvement of local communities.

The project aims to implement Natural Water Retention Measures (NWRM) for hydraulic safety and good water management in urban and agricultural areas, offering information and awareness-raising activities to promote an environmental culture and involving people in contributing to flood risk reduction; furthermore, it is working to create a regulatory framework and technical expertise for the implementation of NWRMs.

Surely this new agreement will aim to strengthen joint academic cooperation, in the next six years 2020-2026, through the following activities:
Scientific research;

Educational activities in matters of common interest;

Mobility of academic staff and researchers;

Mobility of students and doctoral candidates for academic activities to be recognized through a procedure agreed between the Parties;

Exchange of information and bibliographic materials, sharing of know-how on technical-scientific topics of high complexity, in-depth activities in higher education, including mobility of technical staff, administrative and librarian related to these objectives;

Participation in seminars and academic meetings.