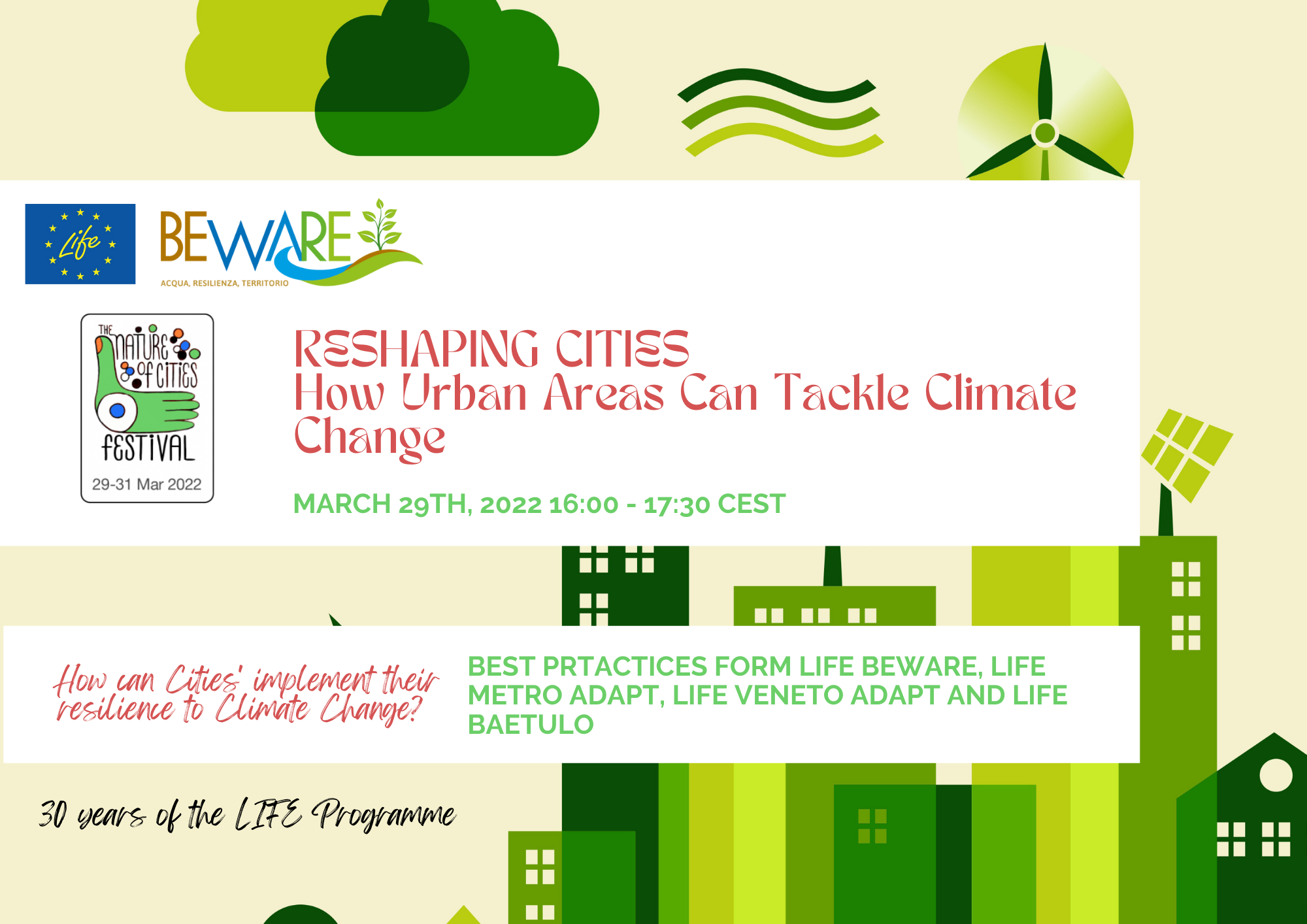 22 Mar 2022

Life Beware at The Nature of Cities Festival – "Reshaping Cities: How Urban Areas Can Tackle Climate Change"

The LIFE Beware project presents the webinar "Reshaping Cities: How Urban Areas Can Tackle Climate Change"|March 29th, 2022 16:00 – 17:30

As part of The Nature of Cities Festival, a 3-day virtual event (29th – 31st of March 2022) that pushes the boundaries of radically imagining our cities for the future, the LIFE Beware project will actively participate on the 29th of March by holding the webinar "Reshaping Cities:How Urban Areas Can Tackle Climate Change". 

The seed session will focus on the topic of Cities' resilience to Climate Change and, thanks to the contribution of four projects, it will highlight various ways and best practices in which urban areas can successfully address this issue, in an innovative way. 

 In the first part of the session the speakers will share the experience of Life Beware and the development of a participatory territorial process. In the second one, with the contribution of three other LIFE projects, participants will be able to know the best practices developed within these projects and how they successfully impacted the territory. The whole session will be held by a facilitator and the second part will be more interactive. 

Agenda

Giulio Pesenti – Life Beware – Facilitation of the participative Workshop and Q&A

Valeria Fantini – ALDA – European Association for Local Democracy
LIFE BEWARE – The Mayors' Adapt Strategy and its drafting thorugh an active participatory process;

Maria Rosaria Scoppettuolo and Valeria Guerrini – Gruppo CAP
LIFE METRO ADAPT – The implementation of Nature Based Solutions in the Metropolitan Area of Milan

Daniela Luise and Giovanni Vicentini – City Of Padova
LIFE VENETO ADAPT – The integration of adaptation measures in existing urban plans such as SEAPs (and convert them to SECAPs)

Andrea Paindelli – Aquatec
LIFE BAETULO – The application of a multi-hazard Integrated Early Warning System (IEWS) in a mixed urban-natural catchment

The involvement and collaboration of four Life Projects is particularly relevant considering that this year is the 30th year anniversary of the Life Programme. 

Alongside a number of other seed and skills sessions, participants will also be able to experience micro-talks, virtual trips and documentaries.

Check out here to learn more about the programme.

How to participate?

The registration is free and open to everyone,  click here to register and follow the instructions below:

Click, at the bottom of the page, on "ACCESS THE FESTIVAL" and use the password  WELCOME

Once you have registered by google account/email/facebook and entered your personal data, you will be redirected to the events page.On the right side of the screen you will need to set your time zone (e.g. Europe/Rome). Once done, type BEWARE into the search bar and you will find our two events!