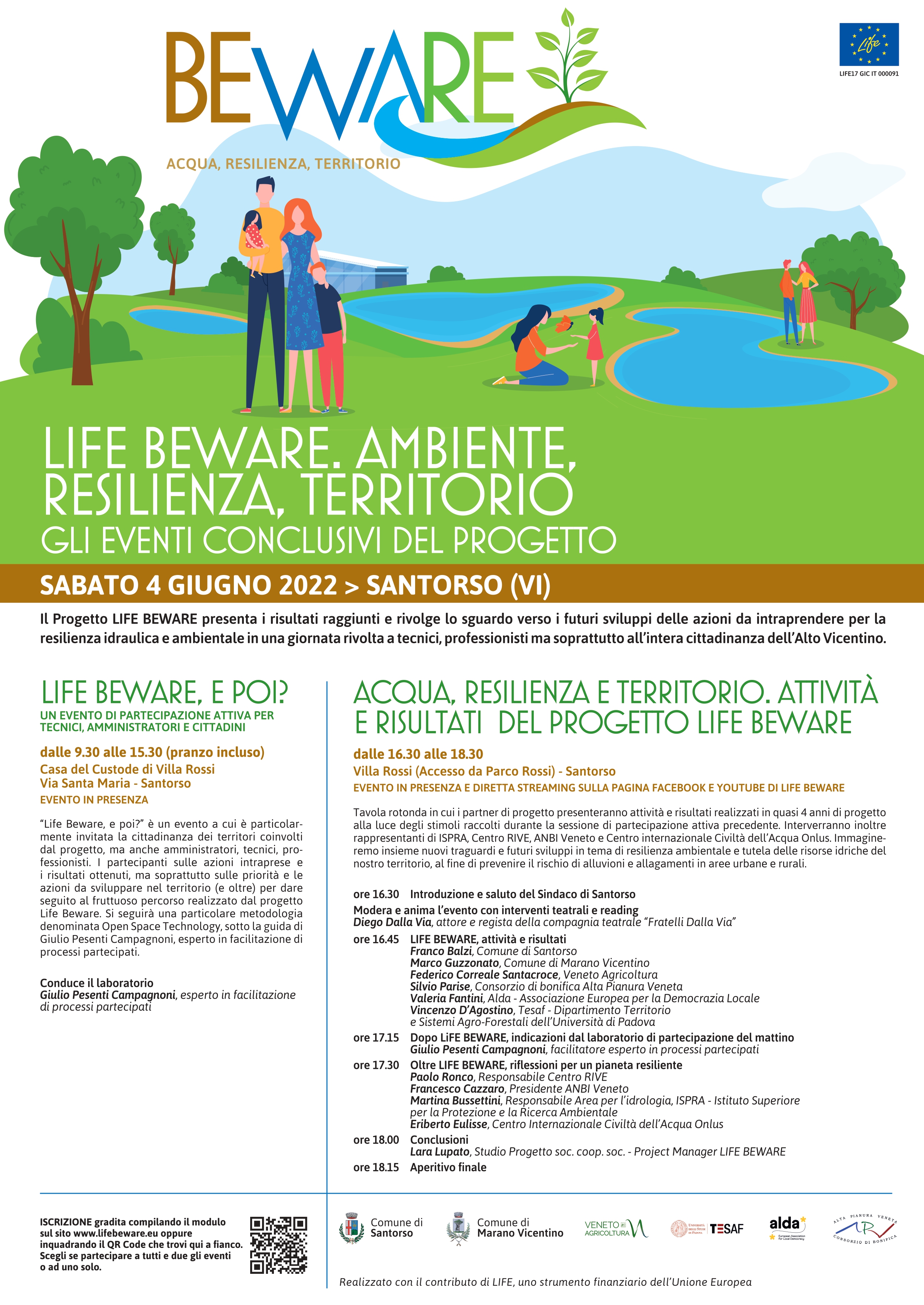 25 May 2022

Life Beware invites citizens to final event | June 4, 2022

The Life Beware Project will present its achievements at the final conference open to the public that is scheduled at Villa Rossi in Santorso on Saturday afternoon, June 4. Speakers will include institutional representatives (ISPRA,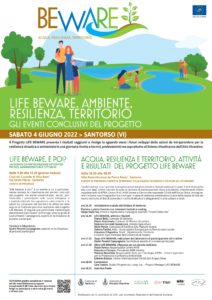 ANBI Veneto) and from the Project partners: the Municipality of Santorso, the Municipality of Marano Vicentino, Veneto Agricoltura, Consorzio di bonifica Alta Pianura Veneta, Alda – European Association for Local Democracy, and Tesaf – Department of Territory and Agro-Forestry Systems of the University of Padua.
The conference will be structured as a round table discussion moderated by Diego Dalla Via (actor and director of the theater company "Fratelli Dalla Via"), in which guests will present the results of the project and explore issues related to environmental resilience with a focus on water, and what are the key steps to be taken in order to preserve the wealth of water resources of our territory for future generations and prevent the risk of flooding and flooding in urban and rural areas in light of the pathway implemented.
The event will be preceded by the two days of training on Tuesday, May 31 and Wednesday, June 1 at the Caretaker's House, reserved for technicians and professionals (see program below), while on the same day, June 4, the event "Life Beware, what next?" is scheduled, in which technicians, institutions and citizens are invited to participate in order to reflect on the actions taken and the results obtained, but above all on how to follow up on this fruitful path, through an active participation session (Open Space Technology methodology) moderated by Giulio Pesenti Campagnoni, an expert in facilitation of participatory processes.
The final event is an important moment in which to draw the conclusions of Life Beware, a project that, with a total budget of 2 million 103 thousand 964 euros of European funds, in the 4 years of its duration has carried out in the territory of Santorso and Marano Vicentino some natural water retention works aimed at achieving greater hydraulic and environmental resilience and coping with the consequences of the increasingly frequent adverse weather phenomena due to climate change, aiming at replicability in other territories. All this is flanked by numerous activities of education and training, study and research, as well as dissemination, participation and promotion that have aroused great enthusiasm and growing interest, leading to unexpected spin-offs not only locally but also nationally and in Europe.